George Gillette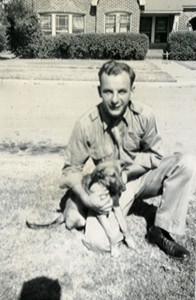 George C. Gillette of Newport Beach died peacefully on Friday afternoon, February 26, 2010. He was 88. He is survived by his wife of 43 years, Deirdre Page Gillette, and his three children; Steve Gillette of North Bennington, Vermont; Karen Henson of Walnut Creek, California; and Darcy Reinier of Guerneville, California. A fourth child, Jeffrey Bruce Gillette died of cancer in February of 1999. He is also survived by five grandchildren; Sean Henson, Tom Henry, Joseph Henry, Jayme Gillette and Julie Gillette, and one great-grandchild, Brayden Michael Hanson.
Born on May 30, 1921 in Rochester, New York, he attended the University of Rochester. There he met and married his first wife and the mother of his children, Louise Hughes Gillette, who died February 1, 1989. They divorced in 1965.
After serving in the U. S. Navy as a pilot during World War II, he attended Harvard Law School, graduating in 1947. Moving his family to California in that year, he began his law practice in Los Angeles, then moved to Whittier and later to Orange County. He continued his military career in the Navy Reserve and retained his pilot's license and ratings, flying out of Los Alamitos Navel Air Base. He later joined the Judge Advocate General's office attaining the rank of Lieutenant Commander.
He taught at Western State University College of Law and served as Judge Pro Tem in Superior Court. Within the last five years he completed a training program and was certified as a volunteer 'citizen cop' in Newport Beach. He had a long history of sailing and maintained an association with the Balboa Bay Club, The Newport Harbor Yacht Club and the American Legion, lending his help as an official for the racing programs. He and Deirdre were inveterate world travelers.
He played the piano for relaxation in the old stride style of the early jazz greats. He loved to have others join in on an assortment of ukuleles, stand-up bass, guitars and tag sale percussion instruments. In 1990, his son, Steve and daughter-in-law, Cindy recorded a piano performance on a digital-audio-tape recorder. This recording became the basis for a limited edition CD called, "Saturday Night & Sunday Morning." Several tracks from the recording were also used in Steve's recent production entitled, "The Man."
He will be remembered as a conscientious attorney, a loving father and husband, an avid skier, a talented musician, and a generous soul by all who knew him.