Steve Gillette
Vocals, Guitar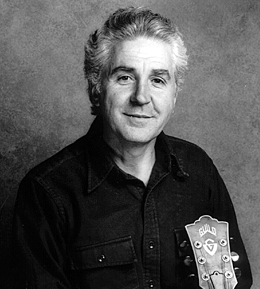 In a musical age created by the singer-songwriter, Steve Gillette has long been considered to be one of the finest. His music has inspired glowing reviews from the critics and the deep loyalty of his fans. Since Ian and Sylvia first recorded Darcy Farrow in 1966, Steve's songs have been sung by dozens of major artists including Garth Brooks, John Denver, Nanci Griffith, Waylon Jennings, Anne Murray, Kenny Rogers, Linda Ronstadt, Spanky and Our Gang, Don Williams, and Tammy Wynette.
Steve's first album, Steve Gillette, was released in the Spring of 1968 by Vanguard Records. The album includes guest performances by Buffy Saint Marie, Bruce Langhorne and Dick Rosmini. His second album, Back On The Street Again, was produced by John Ware for Outpost Records, with help from Spanky McFarland and Emmy Lou Harris' Hot Band. Steve's third album Alone…Direct (solo voice and guitar) was recorded direct-to-disc and produced by John DelGatto on Sierra Records.
Graham Nash produced Steve's fourth album, A Little Warmth in 1979 (Flying Fish). Appearing on this album were Johnny Barbatta and Pete Sears from The Jefferson Starship, Graham Nash, David Lindley, and Jennifer Warnes. The CD was reissued by Compass Rose Music in 2002.
Since their marriage in 1989, Steve Gillette and Cindy Mangsen have been traveling, performing and recording together. Their album Live In Concert, recorded at The Ark in Ann Arbor in 1991, is available from their own company, Compass Rose Music. A second duet album, The Light Of The Day, was named Top Folk Album of 1996 by Rich Warren (WFMT) and Matt Watroba (WDET). Their third duet recording, A Sense Of Place, was released on Redwing Music in 2001. Their latest CD together is called Being There (Compass Rose, 2006). Steve and Cindy also collaborated with Anne Hills and Michael Smith on a quartet recording of story-songs, Fourtold (Appleseed Records, 2003).
The Ways Of The World (Compass Rose, 1992), a recording of 12 original songs produced by Jim Rooney, features studio back-up by Stuart Duncan, Mark Howard, Roy Huskey Jr., and Mark Schatz. Steveís latest solo recording is Texas And Tennessee (Redwing Music), with Charles Cochran, Mark Graham, Mark Schatz, Pete Sutherland, Pete Wasner, and others. The album was named one of 1998's Top Ten Folk Albums by Tower Recordsí Pulse Magazine.
In 1996, Steve released "Texas & Tennessee," an ambitious concept album with help from many talented friends; Larry Atamaniuk, Rey Castillo, Charles Cochran, Richard Curiel, Jeff Gillette, Mark Graham, Wayne Hartel, Anne Hills, Orville Johnson, Cindy Mangsen, Mike Williams, Steve Richards, Mark Schatz, Roger Spencer, Pete Sutherland, and Pete Wasner.
In the liner notes of that project, Steve wrote: "They say that if you've lived in two places, you know more about both of them. There are songs that have dual citizenship too. I spent about ten years on a journey that was all about that kind of song. The odyssey described in the songs here has led me from the campfires of Kerrville to the studios of Nashville and back. It's a journey that isn't over. While much of this writing was done for the business of music, I've never quite been able to believe a song until I have the experience of hearing it with my campfire ears."
In addition to performing in 31 countries, Steve has performed on over 100 college campuses and has taught numerous workshops and seminars on songwriting, guitar theory, and record production. Steve is the author of the book Songwriting And The Creative Process, published by The Sing Out Press in 1995. His film credits include writing and singing the main title theme for M.G.M.'s The Outfit, Walt Disney's The Pond, The Grass Is Greener, Summer Run, and Door To Door. Steve has also written songs for the Walt Disney characters Jiminy Cricket, Dumbo, Rainbow Brite, and Winnie the Pooh.  There is a songbook with 46 of Steve's compositions available from Compass Rose Music.
Steve traveled to Japan with the "Day Of The Dolphin" concert series in Tokyo in 1976, and has been active in the anti nuclear movement and other social causes. He has received ASCAP and BMI performance awards, and was honored by the World Folk Music Association as a 1988 nominee for the Kate Wolf Award. He has been a featured performer at many festivals, including Clearwaterís Hudson River Revival, Fox Hollow, International Songwriter's Festival at Frutigen (Switzerland), The Mariposa Folk Festival, The Old Songs Festival, Owen Sound Summerfolk Festival, The Philadelphia Folk Festival, The Vancouver Folk Festival, The Walnut Valley Festival, The Winnipeg Folk Festival, and is a director and long-time participant in The Kerrville Folk Festival. You can find out more about Steve Gillette and Cindy Mangsen at www.compassrosemusic.com.