Glenn Fukunaga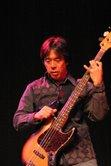 Glenn Fukunaga is Austin's premier bass player.   He writes: I learned the ukulele at age 11. Went on to play the guitar, piano, drums and bass at age 13 followed by the alto sax in jr. high. We all took our guitars and little amps to jam during recess and didn't have a bass player. So, I said one day, "I'll play bass for a year". That "year" turned into 40+years on the bass so far. Can't be involved with music for this long unless you're still having fun, right?
Have recorded with many artists and groups and have done many gigs and tours all over the world through the years. My favorite place is the studio and have been staying close to home in Austin, Texas to be able to do all the sessions that I can. After being on many recordings with artists you've heard of and those you'll probably never hear of, I'm now looking to produce sessions using many of the great studios here and all the great musicians that I record with.
Some of the studios mentioned are as follows: Bismeaux, Blue Rock Ranch, Cedar Creek, Congress House, Flashpoint, Moonhouse, Ace Recording, Razor's Edge, Murray Music and Red Boot Studio. The musicians I speak of make up a list too long to mention at this point and include all styles of music. The clips of music are all unfinished original pieces that are mainly first takes and just rough ideas that I wanted to share. I play bass, guitar and ukulele on these. In Hawaii, one would say, "No shame, eh?". So there you have it. Mahalo. I'm currently playing with Earl Poole Ball and the Cosmic Americans. My fellow band mates and I are having more fun rockin' out like we just discovered music.