Mark Graham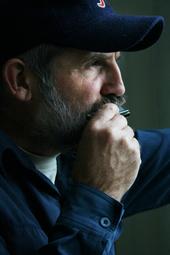 Born in 1953 in Renton, Washington, Mark Graham's early musical experience was confined to school band clarinet playing and listening to Homer and Jethro records. Upon discovering the harmonica and southern old-time music in 1971, Mark began a musical career that included his early years as a street musician in Seattle and stints with such stellar old-time string bands as The Hurricane Ridgerunners(1979-1982) and The Chicken Chokers(1984-1986).
Graham has recorded or performed with Orville Johnson as The Kings of Mongrel Folk, Tom and Patrick Sauber, Tim O'Brien, Laurie Lewis, Danny Barnes, Pete Sutherland, The Horseflies, and Benny Thomasson and has played and recorded with Irish fiddler, Kevin Burke, in the band Open House(1990-1998)
Mark is also the composer of the song, "Their Brains Were Small" recorded by Cindy Mangsen on Live In Concert from Compass Rose Music.